Earlier this month Fishtank released our most recent 'Social Media Intelligence  – Retail Distribution Review (RDR) UK' Report covering the months of November, December and January 2013.
Findings from the current quarters research continue to confirm that relevance of Social Media across the industry, and the increasing adoption by Investment Management brands.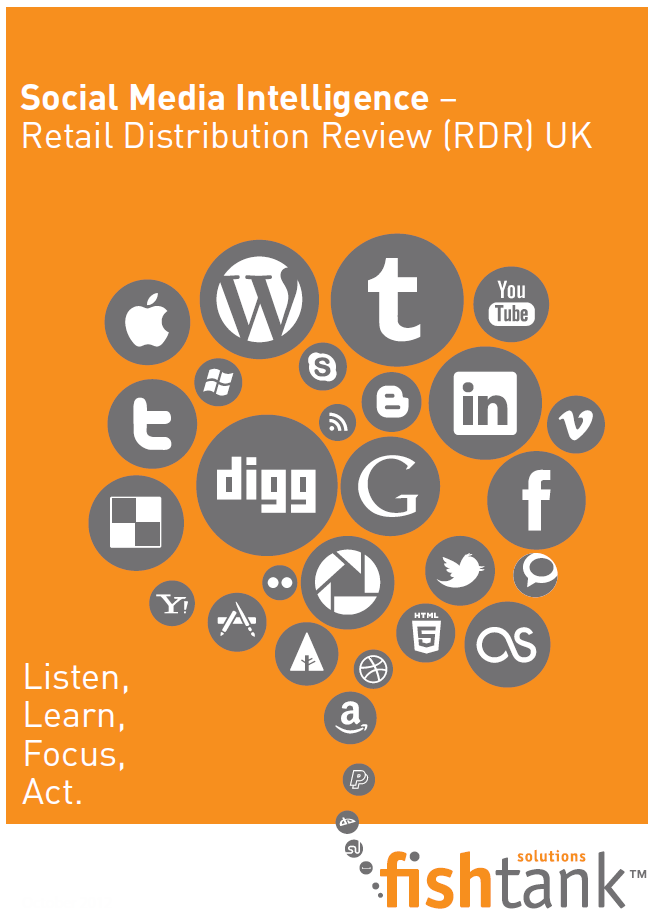 As with all of our research findings last year however, the adoption and participation by wider stakeholders (e.g. media, advisers, end-investors etc.) continues to outstrip Investment Management activity by a long way.
The adoption by planners and advisers in particular continues to grow at an extraordinary pace, and on the whole their grasp of the Social 'etiquette' required to build a following is well understood.
Within this increased activity, there is only a minority of brands that truly understand the 'pull' marketing dynamics of Social, and the value of aligning this to a more holistic digital marketing strategy.
 Research Subscribers can access Detailed Findings from January 2013 Quarterly Report here.
Key headline messages from this quarters' research include:
Unsurprising, given the timing of RDR going 'live', we saw another dramatic spike in related mentions (40% increase on the prior quarter).
Dramatic continuation of growth in Industry and Brand related activity (45% increase verses previous quarter),
Hargreaves Lansdown was the number brand for total mentions (heavily driven by Mainstream media discussion), and therefore set as the 'Brand' in the summary comparison report,

Barclays Wealth and Coutts have the most established (and fastest growing) 'Owned Media Channels', and,
Coutts, Newton, Standard Life are using the most conductive themes, ('Content Drivers' and 'Sources' section reveal the 'differentiating' elements),
Looking outside the UK market for best practice insights, we have included a 'spotlight' on selected Global Brands (BlackRock, iShares, Vanguard and Oppenheimer Funds) in this quarters report.

To obtain a complementary sample of the Social Media Intelligence – Retail Distribution Review (RDR) UK Report

please contact our New Media Marketing Manager, 

Eben Hocking [eben.hocking@fishtank.net.au]