UK Retail Investment Industry Social Media Insights

Once again the time has come for the production of Fishtank's latest Quarterly Social Media Intelligence report for the UK Investment Management industry. As we work our way through our detailed 'Listening' criteria and review preliminary results, already there is proving to be telling insights.  We look forward to sharing in the full report and findings with our subscribers from the 13th May.
To order our UK Investment Management Social Media Industry Report please contact our New Media Marketing Manager, Eben Hocking [eben.hocking@fishtank.net.au].

Preliminary High level trends (Feb, March, April – Quarter 2013)

Competitors
Growth is evident again among included brands'.   In comparison to the last quarter we are again seeing a dramatic increase of 29.5%  in total brand related mentions and activity in Social.
This strong increase, and now consistent trend, is due to the increase in participation levels of Financial Services companies within Social, as well as the exponential growth in the adoption and everyday usage by a broad community of industry stakeholders and relevant audiences (e.g. Advisers, Financial Planners, Accountants, end-investors,etc.).
Industry
Unsurprisingly the Industry mentions around the Retail Distribution Review have decreased this quarter. 'Introduction' of the regulatory changes spiked main stream media interest last quarter, however it remains a central topic of conversation across the industry with 10K mentions for the period.
Whilst it is clear that RDR was a key catalyst behind the participation of UK Retail brands onto Social, the attention that it once garnered has fueled a more broad adoption and usage across the industry (as reflected in the 29.5 % increase of Brand activity mentioned above).

Preliminary High-level Brand Insights

Hargreaves Continued Improvement– Hargreaves Lansdown are again the lead Brand in terms of Industry mentions and discussion, with results showing a rise of over 20% (vs the previous quarter). Online forums, in particular moneysavingexpert.com, have been a key source of increased traffic, where the different offerings between fund providers and platforms has become a popular topic of conversations.
Investec growth, with thanks to FT.com- UK's Financial Times proved to be a key source in influencing and driving the discussion around Investec this quarter. Yet another example emphasising the importance of power of influential voices to drive your brand's reach.
St James's Place Acquisition- Growth of conversation around St James's Place was huge with a 130% increase on the prior quarter. This however was found to be almost entirely due to the sale of 20% of the Wealth Manager, by Lloyds Banking Group in March.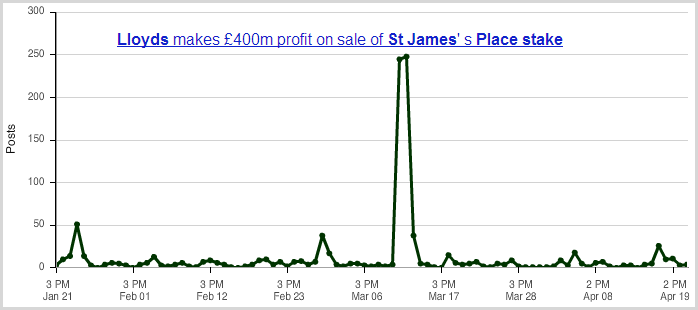 Barclays False Spike- Barclays showed signs of huge growth, initially looking to be around 75%. Again this was driven by a spike around the news story 'Head of Barclays Wealth Unit to Step Down' on Mitch Cox leaving the company in the US. When analysed further the initial results were heavily influenced by what are now suspended accounts on twitter (overstating mentions by more than 1K over a 2 day period).
Sample Reports:
To obtain a complementary sample of the Social Media Intelligence – Retail Distribution Review (RDR) UK Report please contact our New Media Marketing Manager, Eben Hocking [eben.hocking@fishtank.net.au]
Order:  
To order one of our specific Industry Reports, or to discuss customised research requests, please contact our New Media Marketing Manager, Eben Hocking [eben.hocking@fishtank.net.au] to arrange a discussion.