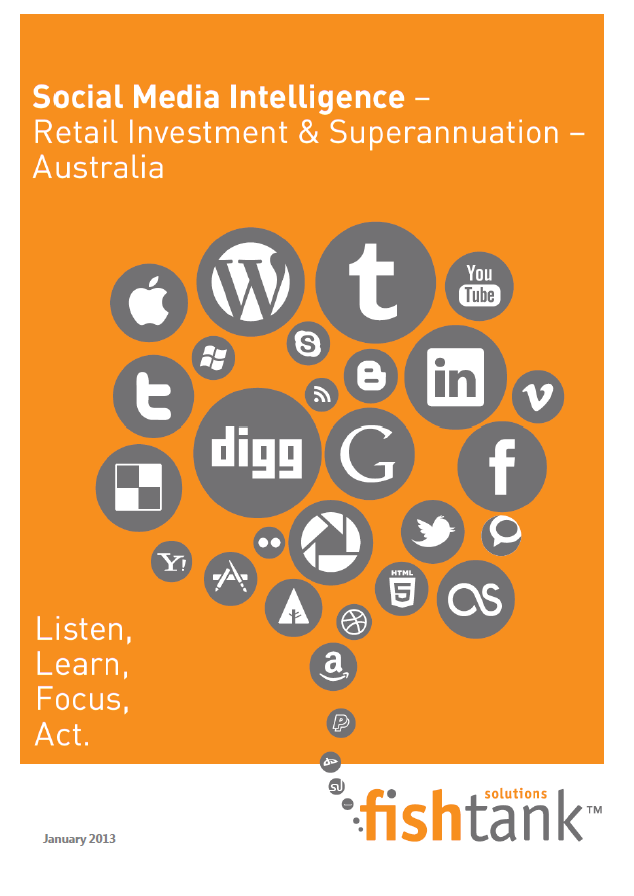 Following  an intensive period of industry consultation, the structure and inclusions of Fishtank's Social Media Intelligence (SMI) focused on  Australian Investment Management and Superannuation have now been finalised.
The next report containing agreed refinements will be available to subscribers in mid July and cover the period from January to June 2013.
Research Objectives
The key objectives of our SMI Industry wide research is to provide subscribers:
A regular 'deep and broad' understanding into the rapid evolution of Social|Digital mega trend and how it is impacting the Australian 'Wealth Management' Industry,
Expanded Brand reputation monitoring to include Social Media and other key forums beyond immediate in-house capability, and,
Digital insights and actionable clues for Marketing, Corporate Affairs, Public Relations, Digital and Sales teams.
Social Media insights on Providers, Customers and Intermediaries
Our research is primarily geared toward providing perspectives across a core cohort of Providers,
Investment Manufacturers, including Industry Superannuation Funds, will be the primary 'Provider' cohort examined as part of the research analysis
For a detailed list of relevant Brands included please refer to Appendix A at the bottom of this note.
Contrasting the insights on 'Provider' our research will also target insights from Retail Investors, Super Members and key intermediaries, including the following specific segments;
Superannuation (inlc. MySuper)

Self Managed Super Funds
Retail Managed Fund Investors (incl. FOFA)
The upcoming July report will also include a  one-off spotlight on selected 'downstream' industry participants.  The wider industry landscape provides many interesting examples in the use of Social and Digital.
Adoption and usage by Financial Advisers, including Dealer Groups, are a relevant example that has attracted a lot of interest during our industry consultation,
We have agreed to generate one-off insights on this Industry group as part of the upcoming report.
For a detailed list of relevant Brands included please refer to Appendix B at the bottom of this note.
Key Sections within our SMI Research
Brand Rankings- Every time a brand is mentioned in the digital world, it leaves a footprint; total brand mentions around both the Investment manufacturers and downstream participants will be presented in this section providing a high level look into which Brands generate the most number of mentions.
Social Media Primary Metrics- A brand specific look into who is active in social, the size of their channels and how fast growth has occurred. This shows best practice examples and demonstrates brand by brand what channels are determined to be of most importance.
Content Effectiveness- Any brand can simply talk about themselves in social, but success is more closely measured by how people engage with and talk about a Brand. By analysing what traffic comes from third parties and excluding own brand mentions, subscribers will gain a better understanding of what response is generated by each brands content and not by themselves.
Key Content Drivers- This section provides a detailed examination of the key content, themes, and sources driving individual brand activity (inclusive of the key words used by people talking, or engaging, with each Brand).
In addition to Brand-by-brand analysis this section also includes key industry 'voices' and the related content, themes and discussion.  As a general rule the Brands with the highest correlation to these industry 'voices' outperform other Brands.
 Sentiment & Sources- What sources (news sites, blogs, forums etc) drove mentions will be established, demonstrating who had the widest reach around a topic or brand. Sentiment will establish the context around what is said about included brands and topics.
Key Influencers- In order to gain the most from social, understanding what channels have the most influence around a brand, topic or theme enables the act of strategic engagement. Certain channels or sources that otherwise may have been overlooked, will be established so as to drive traffic to your digital ecosystem and the growth of social channels.
Trend Analysis & Drivers- Found here is a number of examples of the key drivers of activity for the most talked about brands and Industry Topics. Demonstrating to subscribers what the most conductive news or events were over the period, that generated a spike in conversation.
These changes to the original concept are as a result of the Industry consultation that has taken place over the last 3 months. We also look forward to evolving this product (and applications of the insights) with the subscriber community throughout 2013, to deliver the maximum benefit.
Subscribers are still welcomed as we approach the closing of the deadline, although there is only a small window to ensure brand specific refinements are to be made. If you wish to subscribe or find out more information contact our New Media Marketing Manager- Eben Hocking [eben.hocking@fishtank.net.au]
Appendix A(Investment Manufacturers included)-
AMP Capital
Perpetual
Macquarie Private Wealth
Colonial First State
BT Investment Management
Vanguard
Telstra Super
Australiansuper
CBUS Super
HOSTPLUS
Sunsuper Superannuation
CareSuper
NGS Super
Vic Super
Suncorp Investment Management
Platinum Asset Management
Russell Investments
Tyndall Investment Management Limited
Bennelong Funds Management
IOOF Investment Management Limited
Australian Unity
Appendix B (Strategic Downstream Participant Brands):
AMP Financial Planning
Commonwealth Financial Planning
NAB Financial Planning
RBS Morgans
Hillross Financial Services
Synchon
Infocus Money Management
WHK Financial Planning
Financial Services Partners
St George Financial Planning
Shadforth Financial Group
Yellow Brick Road Wealth Management
Madison Financial Group
Bendigo Financial Planning
Dixon Advisory
Mercer Financial Advice