The latest Fishtank Social Media research across the UK Wealth Management industry continues to show that brands underestimate the size of the opportunity that new media represents, and the appetite that exists across these communities for relevant 'non-partisan' information (content).
During the 3 months between November and January (a generally quieter quarter of the year), there were approximately 1.6 million individual references about key industry topics shared between expanding 'social' media communities of investors (and potential investors) in the United Kingdom.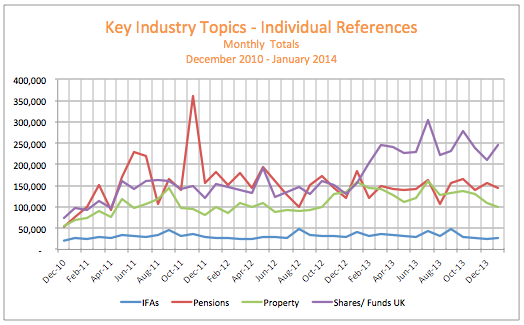 The most popular industry topic over the past quarter (and since December 2012) across social media was investing in 'Shares' (including managed funds) which generated approximately 12,000 individual references per day.   Hargreaves Lansdown is the only Brand to feature prominently in the discussion about shares and funds by Individual Investors across Social Media.
This is a short extract from our latest Social Media Intelligence.  For a more detailed discussion on this article please contact:  John.Aubusson@fishtank.net.au